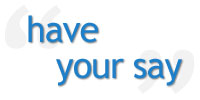 People living in Logan are being encouraged via Council Comment of Jimboomba Times 25 February 2009 speak out and have a say.
 Regional plan
OUR best asset is without a doubt our people and your opinions are being sought on the future of Logan and the south-east region.
The Draft South East Queensland Regional Plan 2009-2031 is now open for public comment.
Aimed at managing growth in a sustainable way, the draft plan will ensure the quality of life we enjoy in the south-east is protected and enhanced.
It tells us where and how the region will grow, guiding us to create well-planned developments. while also maintaining the existence of green space and environmental corridors. The draft plan is open for submissions until 3 April 2009, so I encourage you all to have your say and help shape our future.
If you have any questions or comments, please contact Cr Ban on 3412 5912, 0411 869 027 or email at
This email address is being protected from spambots. You need JavaScript enabled to view it.
14 March 2009 Chambers Flat Community Hall is the venue for a community workshop to raise awareness, discuss issues, allow you opportunity to ask questions and have a say about the Draft South East Queensland Regional Plan 2009-2031 .
Cr Graham Able will be opening the community workshop with speakers from Logan and Albert Conservation Association, Wildlife Preservation Society of Queensland and Environmental Defenders Organisation. [LACA, WPSQ and  EDO].
More will be posted here soon relating to the SEQRP issues and also workshop updates. See events also.