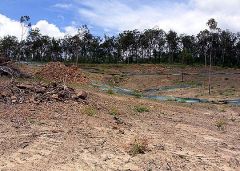 Residents near bushland being bulldozed to make way for a planned satellite city are mounting a fierce and growing battle against the sweeping powers of the Queensland government's Urban Land Development Authority. Greater Flagstone, west of Jimboomba, was chosen during the state government's Growth Summit last year as the site for a new satellite city to absorb 130,000 new southeast Queensland residents in 21 years.
But some of the existing 4000-strong population fear cheap houses will be built en masse without thought for necessary infrastructure or their rural lifestyle.
Resident Mike Kelly, founder of the Save Greenbank campaign, said concerns had fallen on deaf ears in the state government, while the mass clearing of land continued without their consultation.
"The ULDA is bastardising the existing culture and lifestyle here for fast-tracking purposes, which are completely inconsistent with the real needs of the community," he said. Mr Kelly said residents on acre blocks would soon have up to seven neighbours along their fence lines. "There are no guarantees for the development of infrastructure ... even the repair of existing roads," he said. "There are no guarantees that new houses will be made affordable for first-home buyers, rather than investors. We are being kept in the dark here."
Planning Minister Stirling Hinchliffe holds the future of our rural and acreage lifestyle living in his hands. Councils are required to follow a process to allow for community consultation - not so with the statuatory powers given to ULDA. See source and rest of story with comments here.
Go to campaign website to see how local residents are working to restore our democratic rights to be consulted on these issues.
SEND IN YOUR OWN SUBMISSION. Get some tips here. Contact you local state and federal members and HAVE YOUR SAY.