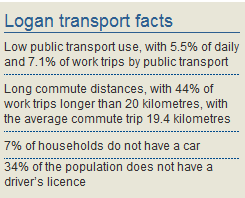 NO VIABLE CORRIDOR FOR THE PARK RIDGE CONNECTOR ROAD
The following is part of LACA's submission to DTMR to object to both the decision to construct a six lane freight motorway impacting on significant wtland areas and also the method of "consultation" used to validate their decision.
LACA does not believe there is a viable corridor for the Park Ridge Connector Road because there are existing communities and environmental assets in the area proposed for the corridor. LACA has stated this position clearly since the beginning of the CSRG process and has continued to communicate this position at all times.
LACA is extremely concerned that the significant environmental issues are being ignored by Main Roads, despite LACA's ongoing communication of our environmental concerns since the beginning of the Community Stakeholder Reference Group or CSRG process. LACA has been particularly concerned that the biodiversity hotspot of Jerry's Downfall Reserve-Flesser Reserve continues to be targeted for an infrastructure corridor, when it is such a significant biodiversity area and bioregional corridor. LACA has also continued to voice its concern for the northern bioregional corridor of Karawatha – Greenbank-Flinders Peak ,Berrinba Wetlands and Scrubby Creek.
LACA believes that this consultation process has been deficient and members of the CSRG have communicated their concerns that they felt like they were being lead by Main Roads throughout the CSRG process. LACA is also very unhappy at the short consultation time frame given to the general community to peruse the EAIR document - ENVIRONMENTAL ASSESSMENT AND INVESTIGATION REPORT - and supporting evidence. LACA has continued to request an extension of time to this consultation from the beginning of the public display period
.... Future urban growth and population growth will need to be supported with public transport corridor investment. The interstate rail route would provide a more sustainable and safer outcome than the proposed PRC for the movement of freight and additionally would provide opportunities for passenger rail services to the growth areas of Greater Flagstone and Yarrabilba. More freight being transported by rail would reduce freight demand along existing road corridors. This option is not addressed as part of the report documents for the PRC. This current PRC proposal is not a sustainable community outcome – it encourages more motor vehicle and freight movement by road, which over the longer term ( beyond 2030) will most likely become a financially unviable option. The significant cost associated with road construction would be more beneficial if invested in freight transport by rail.
Regional planning SEQRP 2009 - 2031 and PRC and Greenhouse Gas Emissions
The PRC does not
reduce Greenhouse Gas Emissions or the effects of Climate Change
meet the Towards Q2 target to cut carbon footprint by 2020 in Queensland

meet the sustainability characteristics in SEQRP

encourage a compact urban form ....

facilitate a system of well protected wildlife habitats

mitigate impacts on the total water cycle, wetlands, catchments or acquatic ecosystems
A copy of our submission will be provided here as a pdf file in near future.